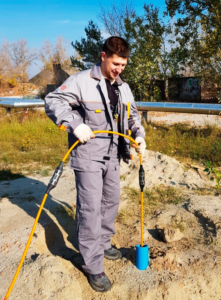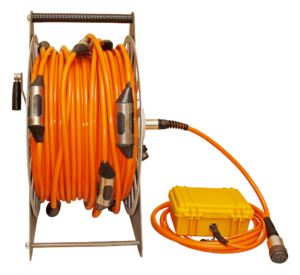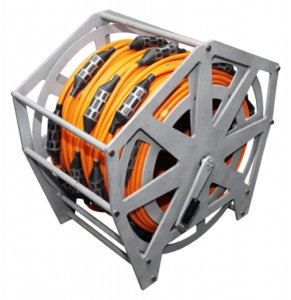 https://geodevice.co/main/seismic/bhe/h-array/
Main features:
Specifically designed for HR borehole surveys
Fast and simple infield operations
High sensitive piezoceramic sensors
Small diameter and light weight
Compatible with any seismograph
Detailed Description
WellStreamer is a borehole hydrophone array, specially developed for seismic acquisitions in the water-filled wells. We designed exceptionally easy to use and robust receiver array with high sensitive piezoceramic sensors for registering compressional (P) waves during VSP and cross hole surveys.
WellStreamer can be supplied in various configurations, starting from single channel and up to 48 units with typical separation of 1 m or 2 m.
Mounted on a reel with a slip ring, which can be ordered with the streamer, it provides easy to operate data acquisition solution without spending time on unplugging equipment during cable operations.
VSP and crosshole data processing requires efficient and sophisticated processing flow. RadExPro seismic software provides all necessary algorithms for multi-component data processing – hodogram analysis, 2C/3C component orientation, wavefield separation, velocity modelling, corridor stacking and well tie to reflection seismic data. Velocity model, Quality factor and other attributes can be estimated by seismic tomography in ZondST2d and ZondST3d software. Geodevice provide processing and consultancy services.
Examples of data, acquired by GStreamer and processed in RadExPro software and ZondST2d are shown below.
Сhannels
1-24
Frequency range
1 – 10 000 Hz
Capacity of piezoelectric element
4 000 pF
Maximum pressure
60 at
Breaking pressure
100 at
Supply voltage
12-16 V
Current consumption per channel
10±1 mA
Output impedance of the preamplifier
395 Ohm
Maximum value of the output signal
±3.8 V
Operating temperature range
-10 ÷ +70 °С
Storage temperature range
-40 ÷ +70 °С
Diameter of the hydrophone module
42 mm
Length of the hydrophone module
200 mm
Weight of the hydrophone module
300 g
Interval between hydrophones
on request, but ≥ 0.25 m
Braiding of a cable
polyurethane
Longitudinal cable sealing
+
Screening of cable and hydrophone module
+
Cable reinforcement
kevlar
Operating load
200 kg
Breaking force
400 kg
Cable diameter
13 mm
Minimum cable coiling radius
120 mm
Minimum coiling radius of the active section
220 mm
Cable Weight
168 g/m
The weight of a streamer length of 130 m with a reel
38 kg
Dimensions with reel
500×600×400 mm
Maximum cable system length
700 m
End Connector
by agreement
End load
the lower end of the cable system is equipped with a weight-bearing loop;
load can be supplied as agreed