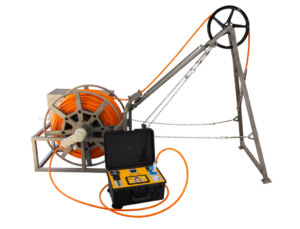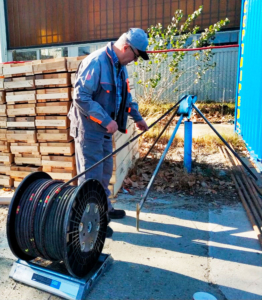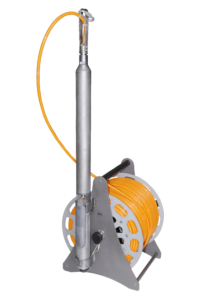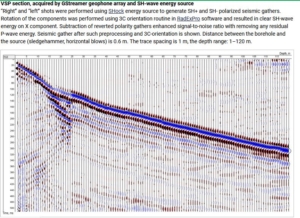 See how easy the job becomes
https://geodevice.co/main/seismic/bhe/bgw/
Main features:
Electric drive
Built-in sliding contacts
Manual winch roller
Integrated counterweight
Manual winding option
Detailed Description
BGW is specifically designed for seismic acquisitions in relatively deep wells, when cable and borehole equipment weight do not allow to perform convenient and safe operations.
Even with a borehole depth of 100 m, a standard coaxial wire line of a 10 mm2 cross section will weigh several tens of kilograms. At depths of several hundred meters, the use of a power cable with a large cross section of the core is required to balance the energy loss at the ohmic resistance – work with such a line is possible only with the use of BGW winch.
Depending on the acquisition type, BGW can be equipped with high-voltage or low-voltage multicore sliding contacts to ensure the operation of the Pulse downhole sparker or WellStreamer and GStreamer downhole recording systems. A powerful electric gear motor allows you to adjust the speed of rotation of the winch drum and fix the equipment at the desired depth. In case of a power cutoff, manual winch operations can be performed. Additional convenience of work is provided by a universal manual winch roller and an integrated counterweigh with a wide range of adjustments for various wellheads.
BGW dimensions and the detachable counterweight with the winch roller make its transportation easy and allow you to perform field operations with a stationary winch in the back of a pickup truck, trailer or minibus.