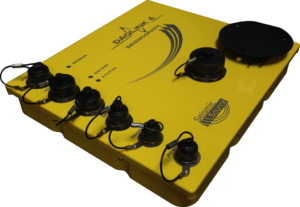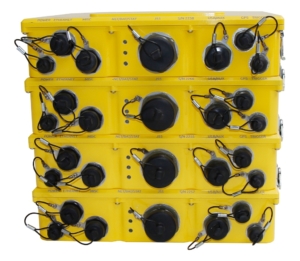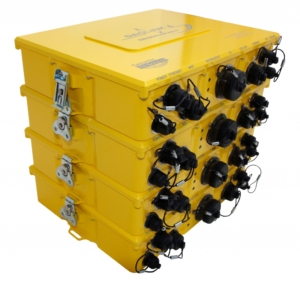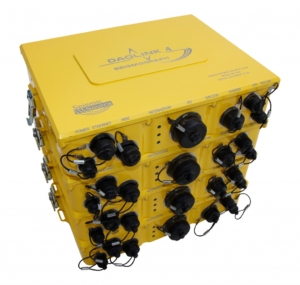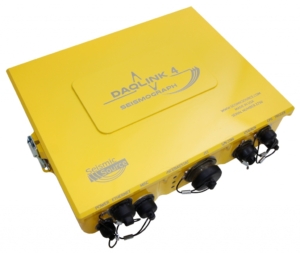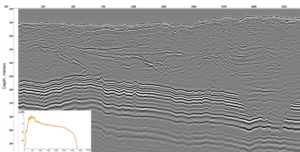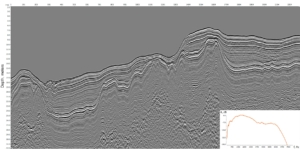 https://geodevice.co/main/seismic/station/daqlink4/
Main features:
All types of modern seismic acquisitions
Easy combination of multiple DAQLinks
Autonomous Recording
Multiple data storage methods
Built-in instrument and sensor testing
Detailed Description
DAQLink-4 is a cutting-edge performance portable multichannel 24-bit digital seismograph. It can operate as a stand-alone unit for small and fast near-surface surveys, acquisition system for larger projects with online monitor and data quality control, as well as passive monitoring and automated event detection. Multiple trigger, synchronisation and data storage modes allow to use DAQLink-4 for all types of modern marine, land and borehole seismic acquisitions, including:
Near-surface reflection and refraction surveys
High resolution marine seismic acquisitions, including continuous recording shooting
Cross-hole testing and tomography (CST)
Vertical seismic profiling (VSP)
Active and passive MASW
Large-scale seismic reflection surveys
Seismic surveys in mines
Passive seismic monitoring.
Each DAQLink 4 unit can have 6 to 24 independent channels. The DAQLink 4 system uses standard Ethernet network connections and standard TCP/IP network protocol. Using its Ethernet hardware, multiple DAQLink 4 units can be connected together for increased number of channels. Also, DAQLink 4s can be connected to any standard network configuration.
DAQLink-4 features:
Exceptional performance: high speed ADC – up to 64.000 sps; wide bandwidth from DC up to 20 kHz, low noise level – less 0.2 µV RMS @ 500 sps
Easy combination of multiple DAQLinks for larger number of channels
Compatible with any type of source
Multiple trigger options for various acquisition types: TTL pulse, GPS time trigger, trigger by LTA and STA and others.
Multiple data storage methods:
VHF/UHF Radio synchronisation for Underground Use
GPS Clock synchronisation for Autonomous Recording
Built-in instrument and sensor testing
Data formats: SEG-Y, SEG‑D, SEG‑2, ASCII or MiniSEED
Examples of seismic surveys using DAQLink-4 seismographs:
Various options of DAQLink-4 Networking:
Wired option
Ethernet 10/100 switches and cables (100 meter maximum length)
Ethernet Extenders – can operate up to 1 km on twisted pair
Wireless network –WiFi – Typical line of site operation or 100 meters between stations
900 MHz WiFi – Typical 1 Km between stations
Electrical:
A/D
24 bit sigma delta converter
Anti-Alias Filters
85% of Nyquist frequency
Low Cut Filter
User Selectable from 0.001 Hz to 120 Hz
Filter Type
Linear Phase
Sample Rates
125 to 64.000 sps
PreAmp Gain
x1 (0 dB) and x16 (24 dB)
Max Input Voltage
±3.7 Volts @ x1 Gain
Bandwidth
DC to 20 kHz
Power Usage
typically 0.13 watts per channel
Input Impedance
100k Ohms
Clock Sync
GPS or VHF Radio
Power Supply
10-28 VDC
Physical:
Number of Channels
6,12 or 24
Temperature
-40 ÷ +85°C
Humidity
0 to 100%
Size
11.0″ x 9.7″ x 1.6″ (280 x 246 x 40 mm)
Weight
4.5 lbs (2.0 kg)
Data Storage (Internal 16GB CF)
120 hours (24 channels @ 500 sps)
Data Storage (on Computer)
unlimited
Data Storage (External USB)
unlimited
Data Format
SEG-2, SEG-D, SEG-Y, ASCII, MiniSEED
LEDs
Network, Status, Battery
Performance @ 500sps:
Trigger Accuracy
±1µs
Dynamic Range
better than 124 dB
THD
0.00008 %
Crosstalk
better than -125 dB
Common Mode Rejection Ratio
better than 100 dB
Noise Floor
< 0.2 µV RMS @500sps
Connectors:
Computer Network
10-pin Weatherproof
GPS
6-pin Weatherproof
Trigger
3-pin Weatherproof
Power
2-pin Weatherproof
Auxiliary Data
14-pin Weatherproof
USB Memory
19-pin Weatherproof
Seismic Data
55-pin Weatherproof