Description
JEA247E500
Ethiopian Series JEA247E500

Seismograph 12 channel with 15 FDU. Trigger units are in red from 1ch to 2 ch – 6ch to 7 ch – 11ch to 12 ch
The operator can choose from the notebook Panel Acquisition.
Please download the MANUAL with technical specifications

JEA247E 500
[7.486 Kb]
Geophone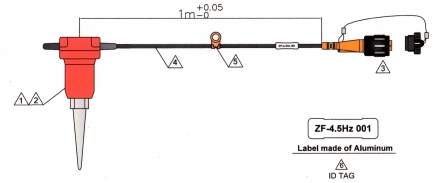 TELEMETRY SEISMOGRAPH JEA247E500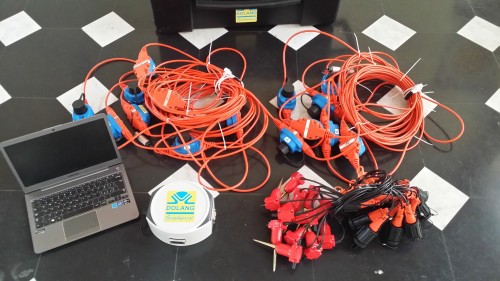 THE PHOTO IS A SAMPLE OF MODULE of 12 CHANNELS, with seismic cables, 12 FDU + 3 FDU Trigger, MOM, 12 Geophones 4,5 Hz and  Notebook, Full Waterproof 1 mt or 15 mt. if necessary
JEA247E500 full telemetry system from 12 to 240 channels
The weight of the 24 channels  including acquisition electronics and connectors is less than 15 kg
The first 24 ch have the possibility to operate for continuosly for hours acquisition at frequencies 250-500 Hz, this allows easy acquistion for file 20 '– 30' with a single file, very practical thing for passive seismic.
For applications ESAC, ReMi, SPAC, MAM.
Naturally MASW, FTAN, SASW. REFRACTION, REFLECTION. Following different parameters of acquisition
FOR CUSTOMERS AND VISITOR, PLEASE DOWNLOAD LAST VERSION UP-GRADE

VERSION 3.1
[3.108 Kb]